#ThrowbackThursday JLC History
Welcome to Throwback Thursdays on the Junior League of Charlotte, Inc. (JLC) blog. During the 2017-18 year, The Charlotte Observer is letting us dig in their archives and share photos of their coverage over the decades of the Junior League of Charlotte's work in the community.
In 1948, Girl Scouts refurbished second-hand toys for sale in the Junior League Thrift shop.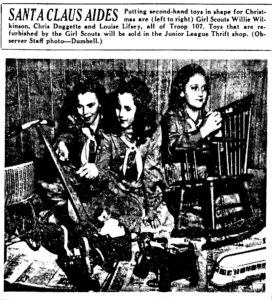 Photo Credit: The Charlotte Observer
While the Junior League of Charlotte does not currently operate a thrift store, the League is still very active during the holidays. Many of our committees, internal and external, mark the holidays in some way. For example, JLC volunteers, through the Project 658 placement, prepared a Thanksgiving meal for 17 families. Also, League members will celebrate the season together at the JLC holiday party next week.
Written by Sarah Wetenhall