This Monday, we are featuring Junior League of Charlotte, Inc. (JLC) member, Lauren Still, as part of our Member Monday series. Lauren is a member of the Chameleon's Journey placement. She is currently a teacher at Pleasant Knoll Middle School. Lauren was deemed Teacher of the Week by the Carolina Panthers and will later earn the title of Teacher of the Year as well. Read more about the Irmo, SC native below.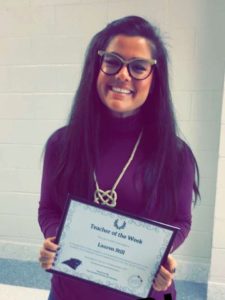 1) Thanks for taking time to share some personal insights with us today. Can you give us some background information about you?
I am an only child from Irmo, SC and graduated from Irmo High School. Irmo is famous for its Okra Strut. Yes, we celebrate okra! I grew up loving sports and played club volleyball. After high school, I attended the University of South Carolina. I graduated with a degree in Middle Level Education. After teaching in Columbia for four years, I made the trek to Charlotte for a change of pace!
2) What is the best and worst decision you've ever made?
The best decision I ever made was to go to become a teacher. I truly love what I do and am so lucky to get to work with kids every day! The worst decision would have to be the bowl cut that I just HAD to have in second grade!
3) What woman inspires you and why?
My mom and my aunt inspire me each and every day. They both taught me to put people first and that relationships matter more than anything else. They both wanted better for their kids and taught me that hard work pays off in the long run. I always appreciated that my mom never pushed a higher paying career on me because she wanted me to thrive and be happy.
4) From start to finish, what would your ideal day be like?
My ideal day would consist of waking up and drinking coffee on a balcony at the beach and then just being in the sun and ocean all day! I love the water and sun!
5) What keeps you up at night?
My children mostly keep me up at night. I have had two children that I taught pass away so I constantly worry about them. Not all kids come from stable homes or always have food on the table, so I'm always worried that they are okay.
6) If you could tell your 23-year-old self-one thing what would it be?
You don't need a man to be happy!
7) One thing people would be surprised to learn about you?
I think people would be surprised to learn that I shaved my head a few years ago. I had a student that had leukemia so I participated in St. Baldrick's. I raised over $5000 for childhood cancer research and donated my hair to make wigs. I looked like G.I. Jane!
8) How has the Junior League helped you develop your potential, taught you something unique, and/or given you an opportunity that you never would have had otherwise?
Junior League brought me around other strong women and has helped further my personal growth. I love the different opportunities to learn from others in the community that I normally wouldn't have contact with!
Written by Marielle Harris