Once a month, Junior League of Charlotte, Inc. (JLC) members prepare meals for refugee families through Project 658.  One of two new community partners selected for the 2017-2018 year, Project 658 is a community center located in east Charlotte focused on supporting the 20,000 refugees struggling to start their lives over in our city.  Refugee families served hail from all over the world, including Ethiopia, Kuwait, Vietnam, Afghanistan and Bhutan.
Through a two-year program, Project 658 assists refugees and international families as they transition into local life. The center offers English as a Second Language classes, job training, resume workshops and culinary and sewing classes. Project 658 also holds after-school programs for kids.
In addition to the classes, Project 658 provides two meals each month to refugee families during the school year. Once a month, the JLC's Project 658 Committee selects the two meals, shops for the food (funded by the $2,500 committed by the JLC to the project for the 2017-2018 year) and prepares the nutritional facts for the families. On Project 658's Serve Saturday, the second Saturday of each month September through May, the committee works with Chef Lara (a member of the Project 658 staff) to prepare and package the meals. The food is distributed the following Monday to parents of the kids in the after-school program in an insulated thermal bag.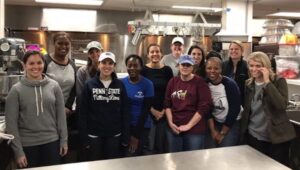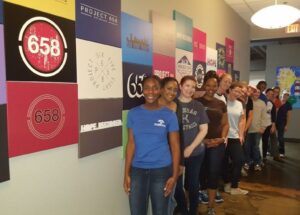 Carolyn Benton and Jackie Tobgo serve as Project 658 Chair and Vice-Chair, respectively.  Benton said, "We enjoy the teamwork.  Each time we come together, we learn more about one another and we also get the opportunity to grow our culinary skills. We are all committed to delivering those two meals for Project 658 Serve Saturdays."
She continued, "Our participation has shown us it takes dedication and hard work to prepare meals for the families (68 people in total). Two meals may seem small, but we believe that small contribution gives the families more moments to spend together."
Written by Sarah Wetenhall