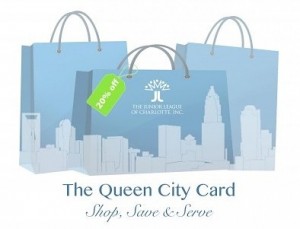 This fall the Junior League of Charlotte, Inc. (JLC) offers members and non-members an exciting opportunity to combine service and fun by getting involved in a new Fall Fundraiser.  This year in lieu of Lights, Camera, Fashion! the JLC is introducing a discount shopping card called The Queen City Card.  We have decided to partner with the Queen City's finest retailers and restaurants to offer you the opportunity to shop local, save money, and serve our community!  By purchasing a Queen City Card, you will save 20% at participating businesses from October 24 to November 8. Proceeds from the Queen City Card will help support JLC programs, including but not limited to developing and training women to be great leaders and volunteers, as well as improving the mental, dental and physical health of children & their families in the Charlotte Community.
A wide variety of local businesses have signed up to participate in this fundraising campaign and they are thrilled about the idea of supporting the community, as well as the shop local concept.  From cute stationary shops, to skin & beauty care vendors and delicious restaurants, there's something to tickle every fancy.  And it provides a perfect opportunity to start your holiday shopping early!  Best of all, you will save money, and support a great cause all at the same time.
The Queen City Cards are now available for purchase on our website (JLC members must login to purchase and receive credit for Fundraising Requirements).  Cards will also be sold to members at the September GMM.  There is still time for retailers and restaurants to sign up so if you own a business or know a business owner who may be interested in participating in this campaign, please visit the Queen City Card partner page or email us at QueenCityCard@jlcharlotte.org.