Johnson C. Smith University
Ronald L. Carter, Ph.D.
President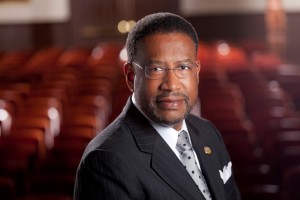 On September 30th, at 6:00 pm, Johnson C. Smith's President, Dr. Ron Carter will present "You're Wrong…I'm Right-The Art of Civil Conversations" to the Junior League of Charlotte.
Dr. Ronald L. Carter became the 13th president of Johnson C. Smith University (Charlotte, N.C.) on July 1, 2008. Dr. Carter earned a Bachelor of Arts in sociology and philosophy from Morehouse College, a Master of Theology and a Ph.D. in philosophy of religion from Boston University. He began his career at Boston University and advanced to become the school's youngest dean of students. In the 1980s, his interaction with Nelson Mandela's relatives compelled him to work in South Africa. His tenure in South Africa began at the University of the Witwatersrand in Johannesburg. He became the dean of students and one of the first black senior administrators at this traditionally white institution. He returned to the United States in 1997 as the provost and dean of faculty at Coker College in Hartsville, S.C.
Dr. Carter serves on many boards, including Charlotte Center City Partners, Opera Carolina, Mint Museum, Council for Children's Rights, Fifth Third Bank Affiliate Board, 100 Black Men of Charlotte, Association of Governing Boards and the United Negro College Fund. He received the 2011 Charlotte Catalyst Humanitarian Award for his efforts in diversity and philanthropy. In 2013, he received the Creative Thinkers Award for his leadership in building Mosaic Village as part of Charlotte's Northwest Corridor revitalization. He also received the Latin American Excelente Award in 2013 for supporting the Latino community. He has two children: Tumelo Rosalind Carter and Cory Demetrius Carter. He has also been the foster parent of four children.
For more details and to register for this event please click here.  This event has been approved for 1 Training Membership Credit.