ThrowbackThursday JLC History
Welcome to Throwback Thursdays on the Junior League of Charlotte blog. During the 2017-18 year, The Charlotte Observer is letting us dig in their archives and share photos of their coverage over the decades of the Junior League of Charlotte's work in the community.
In 1969, the Junior League Shop opened to the public as a fundraiser.  Later rebranded as The JLC Wearhouse, the store closed in March 2017.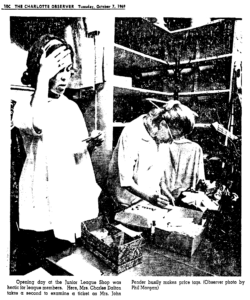 Photo Credit: The Charlotte Observer
Nonetheless, thrift sales continue to be an important source of League fundraising.  In October, the JLC hosted a Members Only Thrift Sale in the JLC Building.
Written by Sarah Wetenhall