The month of October is known worldwide as Breast Cancer Awareness Month, so this month we're highlighting Junior League members who have faced or are fighting breast cancer. This Monday, we're featuring Junior League of Charlotte Past President Katherine Fuller as part of our Member Monday series. Read more about the Charlotte native below.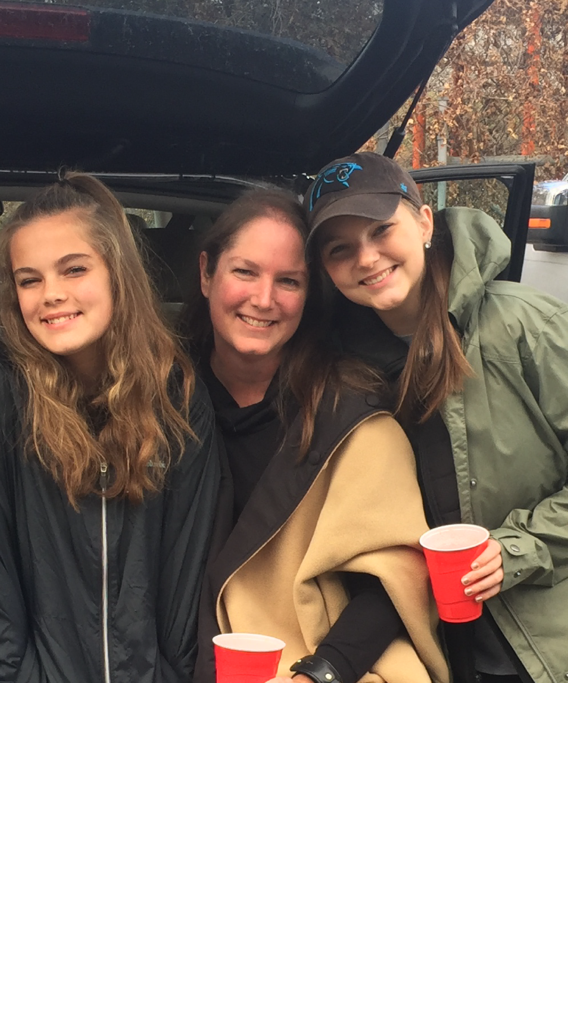 1) Thanks for taking time to share some personal insights with us today. Can you give us some background information about you?
I was born in Charlotte and lived here until I was 9. We moved to Roanoke, Virginia and stayed there until I graduated from high school after which my parents came back to Charlotte which is their home. I attended University of South Carolina returning to Charlotte after college to take a job working horses on a polo farm. I then worked as a veterinary technician for 21 years and now work with my husband at The Webb Company where I receive furniture for interior designers. I have 2 daughters Mary Louise and Katie who are both in high school at East Meck.
2) What is the best and worst decision you've ever made?
Best decision – saying yes to marrying my husband who has been my biggest supporter for 24 years. Worst decision – I am sure there are quite a few along the way but I consider them all learning experiences and a necessity of life.
3) What woman inspires you and why?
Brene Brown – her book Daring Greatly changed my life. Locally – Molly Barker and her unwavering passion for change. I also am inspired daily by all of the women I have had the pleasure of working with in the league – they are passionate, smart and dedicated to making a difference in our community.
4) From start to finish, what would your ideal day be like?
I assume I am not working on my ideal day so I would put myself in the mountains where I would start the day with a round of golf with my husband. We would then go watch one daughter play soccer, leaving the field to go watch our other daughter ride her beloved horse. Finally, I would invite friends over for a fantastic dinner and lots of laughs.
5) What keeps you up at night?
The news!  inhumanity in our world.
6) If you could tell your 23-year-old self one thing what would it be?
Do it all again and don't forget to occasionally stop and be still.
7) One thing people would be surprised to learn about you?
I have hiked most of the Appalachian trail from Virginia to Georgia.
8) How has the Junior League helped you develop your potential, taught you something unique, and/or given you an opportunity that you never would have had otherwise?
Serving as President was one of the biggest honors of my life. Not only did I have the opportunity to represent our organization to some amazing community partners I also got to work alongside of some of the most incredible women I have ever met. I learned so much about my strengths and also my weaknesses as a leader throughout my 10 active years and I will be eternally grateful for that.
9) How did you find out you had Breast Cancer?
I had a bruise on my breast.  Seeing that I was working in a vet hospital at the time I assumed I had gotten it wrestling a large dog. After a month I noticed it looked better but was still there so I went to my Dr. He said it was likely nothing but since I was adopted and did not know my family history we should go ahead and do a mammogram – I was 38.  I went in the next week for the mammogram and went straight to ultrasound where they immediately scheduled a biopsy.  I had a feeling it was not good but held out hope until we went back for the results and the first person who walked into the room had a name tag that started with oncology.  The next 30 minutes were an almost out of body experience as I was overloaded with information on my condition. The experts then left the room and I was alone with my husband and that was the only moment I allowed myself to have a breakdown. I then started to navigate the marathon that would be my next year where I had surgery, chemotherapy and finally radiation. I was blessed with an amazing support system of people and an unwavering faith that allowed me to know that I was going to be ok. It has been 6 years since I was diagnosed and not a day goes by that I am not grateful to everyone who helped me along my journey.
10) What would you tell women who have recently been diagnosed with Breast Cancer?
Attitude is everything in this fight. There are so many resources out there for patients and caregivers alike so utilize them.  There are no stupid questions so don't be afraid to reach out to anyone, I am always there for support – whether we are old friends or have never met.
Written by Marielle Harris