Come out and celebrate the JLC!
The Junior League of Charlotte is being recognized for its dedication and service to Teen Health Connection on Saturday, February 23 at The Fillmore. This is such a fun event, and what a great way to celebrate the JLC with a nice dinner, a standup comedian, and a band! Tickets can be purchased online. Hope to see you there!
Whale of a Sale Event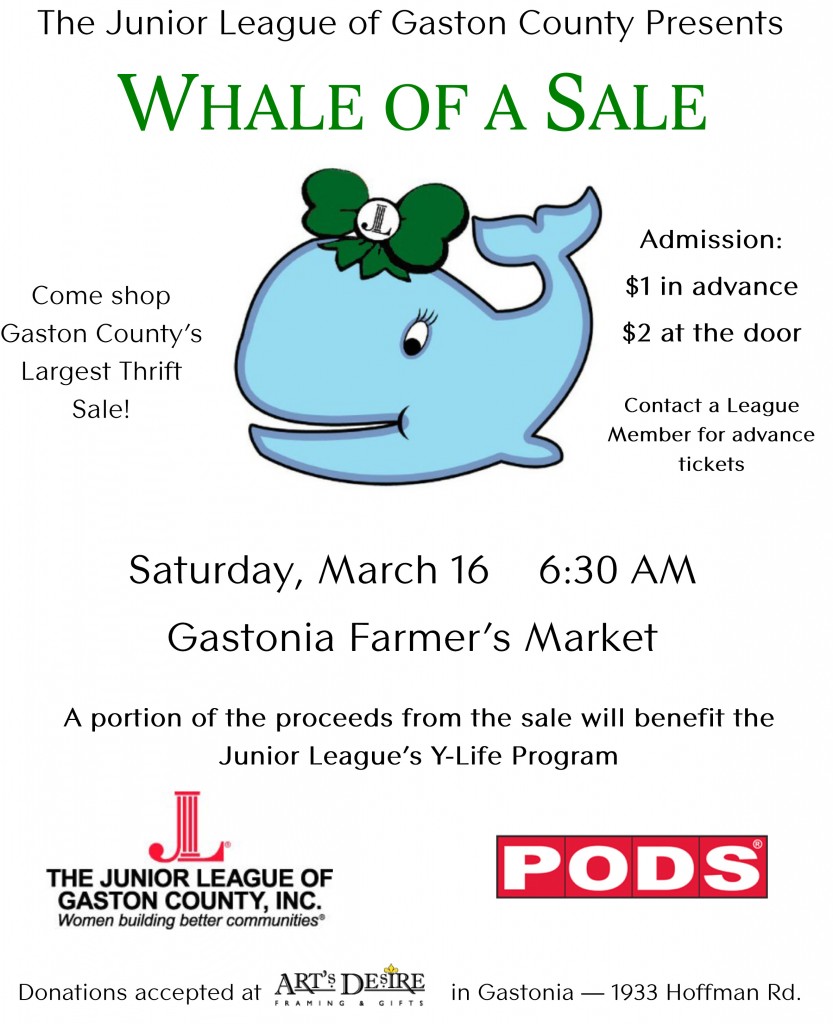 Help Reid Park win "Grow Anywhere" contest
Reid Park Academy is in the running to win a visit from the Burpee Home Gardens food truck and needs your help! The truck will deliver 1,300 pounds of fresh produce, plus 50 plants for the school and 450 for the community, to one of the "Grow Anywhere" contest's six finalists. Visit this page to vote for Reid Park, click 'A' (North Carolina) and cast your vote. Or go to the Burpee Gardens Facebook page and vote for Reid Park! Please note, you can vote more than once a day!
JLC Events:
Upcoming Go Kids Go! Events
As part of the Junior League of Charlotte's Healthy Child Initiative, Go Kids Go! aims to improve the mental, dental and physical health of children. Each year Go Kids Go! hosts four FREE community events for children aged 0-12 and their families. The events encourage and educate children about ways to stay active, eat nutritious meals and lead an overall healthy lifestyle. At each Go Kids Go! event, kids participate in various fun-filled physical activities, prepare healthy snacks and learn about nutrition, safety and disease prevention from Presbyterian Hospital staff. All Go Kids Go! activities are age-specific to ensure maximum impact and fun.
Date: February 23
Time: 9 a.m. – 12 p.m.
Location: Billingsville Elementary School, 124 Skyland Ave, Local Bus Route #15 / Express Bus Route #45X
On-site parent registration required. Athletic shoes suggested. Space is limited. First come, first served.
Don't miss the hoopla at March Money Madness!
Unlimited beer, appetizers, and ACC, Big Ten, Big 12 and SEC men's basketball tournament games on 37 TVs make March Money Madness the biggest conference tournament viewing party in Charlotte! Party tickets start at $30. But March Money Madness isn't just about basketball; it's also your chance to win a grand prize of up to $10,000! Fantastic runner-up prizes are also up for grabs. Raffle tickets are just $50, and you can take advantage of special savings when you participate in both the party and the raffle.
Date: Thursday, March 14, 2013
Time: 6 p.m.
Location: Dilworth Neighborhood Grille
Click here to purchase your tickets or for more information.