The JLC WearHouse invites you to the Fall Open House event Tuesday, August 12 from 6 p.m.-8 p.m. Guests will enjoy 20% off all thrift merchandise and get to hear from two guest speakers: fashion blogger Danielle Rose, who will provide tips on compiling the perfect look, and JLC President Beverley Shull, who will discuss the partnership between the JLC, Reid Park Academy, and the greater Charlotte community.
The WearHouse Fall Open House will double as a back-to-school drive to benefit the JLC's Cornerstone Project, and Reid Park Academy. Guests are encouraged to donate school supplies for an additional 10% off their WearHouse purchase for the evening. Requested donation items include; No. 2 pencils, black and blue medium point pens, large rectangular erasers, colored pencils, crayons (regular and jumbo), highlighters, markers, dry erase markers, marble composition notebooks (no spiral), loose leaf paper (wide and college ruled), spiral 1-subject notebooks, 2 pocket folders, USB Flash drives (4GB), 3" ring binders, backpacks (no wheels), and paper products (tissues, unscented baby wipes). Donations will be collected at the door, and donors will receive their additional 10% off coupon on site.
This event is eligible for membership credit – please register at http://www.jlcharlotte.org/?nd=m_event_detail&event_id=2442&return_nd=m_home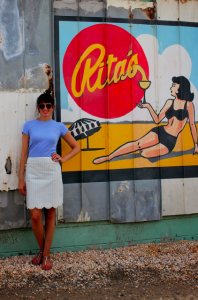 Photo of Rubies on Vanilla, fashion blogger, Danielle Rose modeling a JMcLaughlin skirt and Polo top found at the JLC WearHouse thrift section!