The month of October is known worldwide as Breast Cancer Awareness Month, so today we are sharing the story of the 2016-2017 Ballantyne Provisional Group's Capstone Project with Carolina Breast Friends.  This article was contributed by Junior League active and 2016-2017 Ballantyne Provisional Group member Emily Kuhl.  Emily's mother Linda Howard battled breast cancer twice, ultimately passing away in May 2015.
Our group chose to partner with Carolina Breast Friends for our Capstone Project as their mission and service resonated with our group.
The two main activities that the group participated in for our eight hours of committed time were assembling comfort bags at the CBF Pink House, and making lavender-scented rice eye pillows for the bags.
In the assembly of the comfort bags, one of the organization's cornerstone outreach projects, we filled reusable bags with day planners, puzzles and coloring books, organic toiletry products, socks, hats, and treatment guidance materials. These were all items previously donated to CBF, and will subsequently be distributed to local oncology offices to newly diagnosed patients. It was extremely gratifying to put together these bags as a group since the CBF team does always have the time during business hours to put them together, and there is certainly a constant need for them. We know that these will go into the hands of women during an incredibly challenging time in their lives, and will provide a personal touch of encouragement.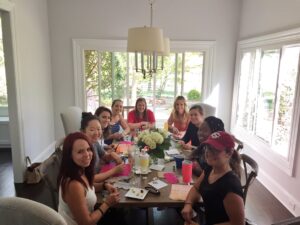 At the request of our contact at CBF, we also spent a Sunday afternoon as a group assembling eye pillows, filled with lavender scented rice and sewn together by hand. CBF likes to include these in their comfort bags when possible as they can be used to ease the stress and discomfort for patients when they are undergoing their infusion treatments. As with filling the comfort bags, it was very rewarding to create something that bears the hallmarks of being made individually, with care, by hand. While we will never know the recipients of those pillows, those who receive them will know the effort and care put into the pillows.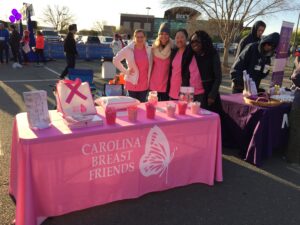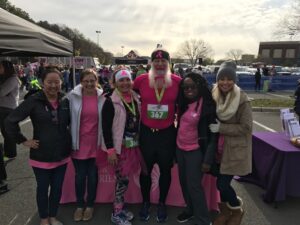 Additionally, a smaller portion of the group was able to support CBF by setting up and manning their sponsorship booth at the recent RunJenRun 5K event in SouthPark. The organization's staff was not able to attend, so we performed an important function by handing out informational materials, and representing the support of the CBF for the cause. It was a really uplifting and positive experience to interact with the runners and supporters at the race, as well as share information about CBF to those in attendance.
-Contributed by Emily Kuhl