What is Done in a Day? What do they do? Does it all happen in a day?
These are questions that are frequently asked…hopefully this blog will answer all of your questions!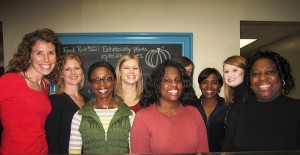 Done in a Day (DIAD) is a very unique placement. Committee members are able to work with organizations within the community as well as assist other JLC placements and activities if/when they are shorthanded.
This provides a great opportunity for committee members to volunteer when it works for their schedules. There are generally two opportunities each month which last three to four hours each.
This year there are fifteen women on the committee. Committee members identified special organizations around Charlotte that DIAD is committed to helping this year.
So far this year, DIAD volunteers helped make over 30 bundles for Baby Bundles, an organization that helps mothers provide clothing for their babies. They also made felt heart pillows  for Cardiac Kids at Levine – a project they hope to repeat that project in the spring. Other events the committee has hosted include  a taco bar dinner for the ladies and children at Florence Crittenton Services and they are excited to be working with Girls on the Run and Reid Park Elementary this month. Coming up in the spring, Done in a Day has identified great opportunities to work with Charlotte organizations including A Child's Place, Be A Bunny, NICU Picnic and Blume Picnic.  If you know of an organization with a community-related focus that would benefit from Done in a Day volunteers, send them an email.
–Tami