As a new Mom, I'm learning new things every single day. The one thing I learned about most recently has blown my mind (Infant Survival Swim). My friend Robin DuMont has her 7-month-old, Austin, taking lessons after seeing a video posted online and has been going on and on about it for weeks. So, what is Infant Survival Rescue (the official name) and why are parents choosing it?
A quick rundown on ISR.
* These are not lessons you'll find being taught at your local swim club or YMCA. These lessons are one-on-one with your child and a certified instructor at a private pool. 
* Children have to be at least 6-months-old to start ISR and can continue until the age of 6. 
* Most lessons are 4 to 6-weeks for 10-minutes per lesson each weekday. Generally, after 4-weeks the instructor will evaluate where the child is and how much longer he or she should continue.
* Prices vary depending on instructor but you can plan to spend around $105 registration fee and anywhere from $75 to $100 a week for lessons.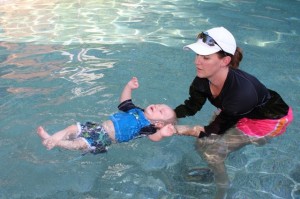 For more information on ISR, certified instructors in your area and video demonstrations visit the infant swim site by clicking here. As for the experience for baby and parent?
"They are intense," says Robin, but highly recommends them.
"It's really been amazing how far Austin has come in just four short weeks. He's learned to spit water out, breath out instead of in when going under water, and he's moving his legs and arms the way he's suppose to."
Robin went on to say that the hardest part when first starting the lessons was handing her only child over to the instructor.
"In all honesty, he isn't the happiest little guy during the lesson, but he charges through and he's learning more and more each day," says Robin.  Austin is also very comfortable in the water when just playing with Mommy and Daddy at the beach or in the neighborhood pool. Is ISR, for you and your child? Maybe.. Maybe not?
My advice would be to look at the website, research it for yourself, and talk with your spouse or family members on what you think is best.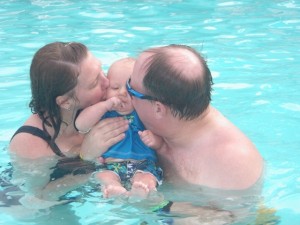 Obviously, Chris and Robin are thrilled with the results they've seen, and Austin seems pretty happy too. Have you had your child in any type of program like this? We would love to hear about your experience.
Deanna