This Monday, we are featuring Junior League of Charlotte member Jacquie Baker as part of our Member Monday series. Jacquie is the Chair of the WearHouse committee and is currently a National Account Manager at Clorox. Read more about the Kalamazoo, Michigan native below.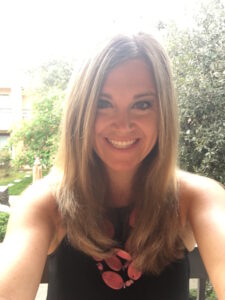 1) Thanks for taking time to share some personal insights with us today. Can you give us some background information about you?
I am a mid-west girl through-and-through. I was born in Ft. Wayne, Indiana and spent my formative years (middle and high-school) in Kalamazoo, Michigan.  I attended the University of Michigan in Ann Arbor (GOOO BLUE!!!) and moved to Chicago, IL upon graduation.  While in college, my parents and younger sister moved to Denver, CO and I had the pleasure of spending a couple of summers out there.  My sister still lives in Denver and my parents have since retired to sunny Florida.   I met my husband, Jason, in Chicago (also a Midwest guy) and 6 years ago, we went in pursuit of a warmer climate that offered good career opportunities for us both.  Charlotte was the perfect fit.
2) What is the best and worst decision you've ever made?
 BEST = Spending a semester abroad in college.  I lived with a host family in Sevilla, Spain for six months and wouldn't trade that experience for the world.
WORST = Dating my college boyfriend back home the entire time I was there!
3) What woman inspires you and why?
I am a huge sports fan and thus incredibly inspired by women in sports broadcasting (Hannah Storm, Erin Andrews, Samantha Ponder, Linda Cohn, etc..). It takes drive, determination, willpower and BOLDNESS to be successful in such a male-dominated field.
4) From start to finish, what would your ideal day be like?
I am a morning person so it would entail an early wake-up followed immediately by a good workout (I love to take classes such as Yoga, Pure Barre, Bootcamp, etc..). My favorite season is fall, largely because of college football, so it would entail sitting outside somewhere watching Michigan football with my husband and friends (even better yet, attending a game live).  Michigan would get the victory and then we would all go out for dinner/drinks to celebrate.
5) What keeps you up at night?
I am a very sound sleeper so I have to be REALLY stressed about work/life for it to affect my sleep. In the rare instance that I cannot sleep, it is likely due to jet-lag, as I travel to the West Coast frequently for work.
6) If you could tell your 23-year-old self one thing what would it be?
Again, going back to my college boyfriend… Long distance relationships do not last when you are 23 and living in Chicago. Don't waste your time!
7) One thing people would be surprised to learn about you?
I was a cheerleader at the University of Michigan, hence my die-hard football sports fandom for the Maize & Blue ☺
8) How has the Junior League helped you develop your potential, taught you something unique, and/or given you an opportunity that you never would have had otherwise?
The Junior League has taught me leadership skills that I have been able to apply directly to my career.  I am a relatively new leader in my company and have found that my JLC experiences have helped make that transition as seamless as possible.  Moreover, as a member of the JLC, I am surrounded by women that inspire and motivate me every day.  I am convinced that we have some of the most talented, strong and intelligent women in all of North Carolina and I am fortunate to learn from them every day!
Written by Marielle Harris