The month of October is known worldwide as Breast Cancer Awareness Month, so this month we're highlighting Junior League members who have or are battling breast cancer. This Monday, we are featuring Junior League of Charlotte member Helen King as part of our Member Monday series.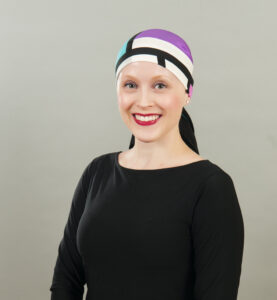 1) Thanks for taking time to share some personal insights with us today. Can you give us some background information about you?
I was born and raised in Abilene, TX (think Friday Night Lights) and will always be a Texas girl at heart. I am the oldest of three children – I have a younger brother and a younger sister. My father is a surgeon and my mother is a nurse. She later went on to serve as President of the Abilene Independent School District Board and spent ten years in the Texas House of Representatives.
After graduating from Abilene High School, I moved to North Carolina to attend Wake Forest University. Go Deacs! I graduated from Wake with a BA in Political Science in 2003. Then I moved to Washington, DC to work on Capitol Hill. In 2004, I moved to Charlotte. About a year later I began work on my MPA at UNC Charlotte. After I received my MPA, I decided to go BACK to school again. I am currently completing my work on my Ph.D. in Political Science at the University of South Carolina. I also teach at CPCC.
My identical twin boys, Austin and Blake, were born in 2010. They are 6 now and definitely keep me on my toes. I also have two Boston Terriers, Major and Colt.
2) What is the best and worst decision you've ever made?
I am not sure that I can think of best and worst decision. I have made so many good and bad decisions in my life. Essentially, I believe that God has a plan for my life. At times that plan has not been particularly clear, but I know that there is one! Some decisions that I thought were bad at the time have worked out in the end. This year in particular has taught to me to be flexible.
3) What woman inspires you and why?
I am inspired by so many women! However, I think that I am the most inspired by the women who go FIRST – the trailblazers. It isn't easy to be the only woman in the room or at the table. Those remaining glass ceilings are made to be broken, ladies!
4) From start to finish, what would your ideal day be like?
My perfect day would begin with buttermilk waffles. Then a morning run. Lunch would be from Taco Bueno or Whataburger. The afternoon would involve a massage and time on the beach with my boys. Gnocchi is my favorite Italian food – maybe with some Chianti and then Tiramisu for dessert. Obviously I love food! Hence the running…
5) What keeps you up at night?
So many things keep me up at night… I am a Type A personality, ha ha. I always seem to go to bed thinking about and planning for the next day.
6) If you could tell your 23-year-old self one thing what would it be?
STOP LONG TERM PLANNING! I was such a planner (and still am to some extent). I wanted certain things to happen at certain times in my life. I should have allowed myself more time to relax and explore – more living in the moment!
7) One thing people would be surprised to learn about you?
I am not sure if this would be a surprise, but I spent 10 summers at Camp Mystic in the Texas Hill Country. Five of those were as a counselor. I really miss those days. Camp Mystic is such a beautiful place!
8) How has the Junior League helped you develop your potential, taught you something unique, and/or given you an opportunity that you never would have had otherwise?
Of course I have gained valuable leadership skills from the JLC and it has been a privilege to be a part of our community work. However, the friendships come to mind right now. The caliber of women in the JLC is incredible.
The friends that I have made in the JLC have significantly lightened my load while dealing with my treatment for breast cancer. From laundry, to meals and just conversations that do not involve medical terms! The women of the JLC truly have servant hearts and I am so grateful! The JLC has been a huge blessing to me.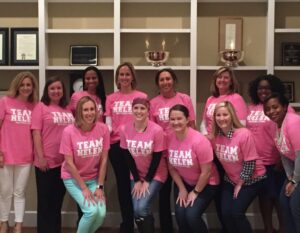 9) How did you find out you had Breast Cancer?
I found a lump in my right breast at the end of January. First, I had it checked by my OB-GYN at my annual exam about a week later. Then I was referred for a mammogram and ultrasound. Finally, I had four biopsies. It took about three weeks for me to be officially diagnosed. A month after that I began chemotherapy.
10) What would you tell women who have recently been diagnosed with Breast Cancer?
YOU CAN DO IT! A breast cancer diagnosis is not something any woman wants to hear, but there is light at the end of the tunnel. I still have approximately six months of treatment left, but I know that I am going to get there. I would also say to call me! I have been blessed with so many listening ears in the breast cancer community and I would love to pay that forward.