This week's #WeConnectWednesday theme is "We Connect For Our Community." For nearly 89 years, the Junior League of Charlotte, Inc. (JLC) has had a history rich in service to the Charlotte area. In 1926, 30 women began the JLC, providing support for local children and families in need, patronizing the arts, and advocating for education. From the Charlotte Nature Museum to Discovery Place to the Levine Children's Hospital Family Resource Center, and now to our newest work with Reid Park Academy, the JLC has left a legacy of service, dedication, and compassion. With a a membership of almost 2,000 members and providing 15,000 hours of community service a year, the JLC continues to provide services to the Charlotte community. The JLC has committed more than 1 million volunteer hours and given more than $12.9 million to the Charlotte community. You'll see the JLC's impact in the community in some of Charlotte's greatest organizations and landmarks:
The JLC WearHouse
The Children's Theatre of Charlotte
Discovery Place
The Charlotte Nature Museum
The Council for Children's Rights
Charlotte Speech & Hearing
Thompson Child Development Center
Levine Children's Hospital Family Resource Center
Reid Park Academy Community School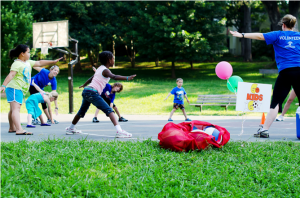 Through the JLC's Healthy Family Initiative, the JLC's focus areas include the:
This Saturday, you can connect for our community! The JLC and Charlotte-Mecklenburg Schools have partnered to sponsor Family HealthLink, a public festival that features health assessments and vision, hearing and dental screenings for children Pre-K – 12th grade. Children and families will also enjoy education topics for children, entertainment, and giveaways. The event partners with Big Shots Saturdays to provide immunizations. The 2014 Family HealthLink event will be held Saturday, September 20, 10AM-4PM at the Phillip O. Barry Academy of Technology.
Volunteers and audiologists are needed in shifts from 9:00 a.m. through 5:00 p.m. for set-up, event assistance, and clean-up. Contact Katie Clark at katie.e.clarke@gmail.com if you would like to volunteer.
Keep up to date and check the blog each Wednesday to learn more about how you can connect with your community. Don't forget to tag the JLC with the #WeConnectWednesday hashtag every Wednesday!