Provisional advisor Elle Allen is one advisor who's small group donned aprons last month for a baking and bonding experience. She shared a picture and some delicious details from the event. really stepped it up to make a very special night out.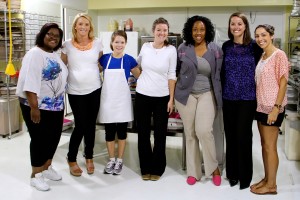 When was it held? 
September 10, 2013
Where?
  Neet's Sweets on Park Road.  Neet shares a space with Wow Factor Cakes on Park Road.    
Who was there?
  Rebecca Carter, Neet Childs, Sarah Helms, Lori Hutcherson, Raleigh King, Lillie Seels, and  Elle Allen
What was fun about it?
Our provisional group was able to get to know each other while baking cakes, cupcakes, and cake pops.  Some of the proceeds from the sale of these baked goods will go to aid programs that assist survivors of human trafficking.  Neet is an inspiration and helping her bake was rewarding and fun!  
Why people should go?
  I recommend this for a group activity because when I think back on being a provisional advisor I might remember the wine nights or dinners, which are all in good fun.  I know, however, that I will remember getting to know the ladies in my provisional group while baking alongside Neet Childs.  It was an experience that I feel confident none of us will forget. What a fun idea! What other great "out of the box" ideas do you have for small group outings?