Is all that glitters really gold?
I joined the Junior League of Charlotte as a provisional last fall with high hopes. I have several close friends in the league so had seen it as a way to give back to the community and to make new friendships. It seemed like a really fun group where something was always going on to be a part of. Perfect right? Honestly, I had my concerns. Would I have to be dressed to the nines at every single event? Did I really want to add a social event a week to my already busy schedule?
My experience began with me immediately plotting out all the provisional meeting/volunteer hours on my calendar. I'm one of those people who stress with having things lingering over me, so was important to get it out of the way immediately. The next few months flew by – between WearHouse hours, small group meetings and our other events.
The culmination of the Provisional term was the annual Holiday Party.
Here's a picture of me at the pre-gathering with the LDI group.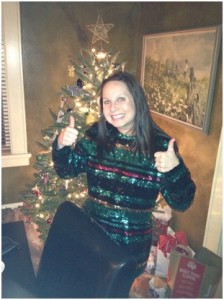 Instead of wearing an expensive, trendy outfit, I wore this dazzling sweater dress I picked up for $15 at the Warehouse. Even better, everyone seemed to love it!
I've ended the experience really thinking that Junior League is a golden organization. It's full of ladies with great personalities all wanting to network. It's extremely well organized and is truly giving back to the Queen City. I also enjoy that the League can be whatever you want it to be. For some people they want it to be as social group where they occasionally volunteer and others are doing it strictly for the volunteerism aspect. I for one think I'm somewhere in the middle- a middle that I got to pick.
Click here to learn more about joining the JLC.
Hope your 2013 shines!