September Event Highlight
Looking to make new friends, expand your network or simply have a great time with like-minded people?  If you answered yes to any of those questions – Third Thursday Socials are the place to be!
The Junior League of Charlotte, Inc. (JLC) offers Third Thursday Socials as a way for you to meet the talented women in our network and create long lasting relationships with great JL women.  There's a Third Thursday Social for everyone and you'll be hooked from the very first event you attend.
This month, get ready to let your hair down literally at 8 the Salon, one of Charlotte's most exclusive beauty salons in Southpark.
Last October, the salon helped us relax, relate and release with free hair and makeup consultations, music, drinks, food and some amazing giveaways.  They will open up their doors to us once again on Sept. 20 at 7 p.m.
This is a night that you don't want to miss…sign up by clicking here…we look forward to seeing you there!
The socials will continue every third Thursday. Now through the end of September you can let the Social Committee know what you'd like to see on the schedule by taking this short survey.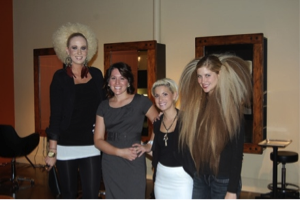 Salon staff and models at last year's social event