It takes a effort and time to be able to balance career, family and community. But for those of us who have been willing to make the commitment, striking that balance is well worth the time and effort invested. This month, we has the chance to catch up with Allison Barry, JLC Sustainer, Southeast region Marketing Manager at Grant Thornton and full-time mom, to find out how the JLC has made an impact on her life and helped her to succeed.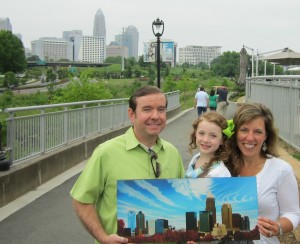 When did you join the league and why?
AB: I joined the JLC in 2005. After moving to Charlotte in 2000, I wanted to get involved in the Queen City, give back to the community and connect with other women. Several friends who were members suggested I join the JLC.
What is your favorite memory from the league?
AB: I've had so many fun and meaningful times with the JLC, but one memory shows how caring JLC members are for one another and how we weave fun into our community activities. While very pregnant, I was on the planning committee for a JLC fundraiser. After we completed discussions of budget and other planning logistics at a meeting, the committee members surprised me with a baby shower. It really touched me that these women wanted to celebrate this important milestone with me. Ultimately, the JLC is about helping our community, but the JLC also creates a community of women who celebrate and support one another.
What skills do you feel that the league taught you and how has the translated into your professional and personal life?
AB: Organization and teamwork are the skills the league helped me hone. I learned that when we better organize our time and contributions, the more impactful our JLC activities are. Adding in teamwork, we bring the broad talents of the team together to accomplish our goals in the community. As a Marketing Manager for a public accounting firm, I rely on these skills every day in my career.
What do you consider to be your greatest success and why?
AB: By far, my greatest accomplishment is my family. I'll consider myself successful when my daughter understands the importance of building strong friendships and investing in our community.
If you had one piece of advice for new members, what would it be?
AB: Get involved and learn all that the JLC is doing in our community. The more you commit to the JLC, the more you'll be able to grow and benefit.