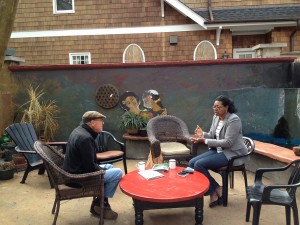 In March, PPI participants attended a "coffee chat" with Ron Morgan of 100 Gardens. 100 Gardens is striving to bring communities together to eliminate hunger and create a sense of community between residents in the Charlotte area and struggling communities in Haiti.
The goal of 100 Gardens is to establish 66 aquaponic systems in schools across the region. The aquaponic system is a system of producing food that combines traditional aquaculture and hydroponics. Click here to see how it works.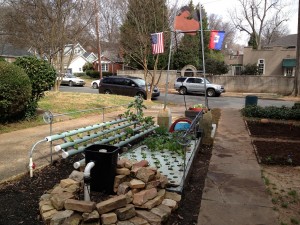 Currently 100 Gardens has three gardens in operation within the Charlotte area. PPI attendees were able to see the capabilities of these gardens to eliminate hunger in a community firsthand.
PPI is a League sponsored advocacy and training class for League members and community partners. In its second year, PPI teaches women to advocate effectively through education on local, state, and federal government, as well as the most effective way to reach key decision makers and make change.
What is a coffee chat?
These "chats" provide PPI participants a chance to sit down with problem solvers, community leaders & elected officials in an intimate and informal setting, such as a coffee shop, and discuss solutions to the problems raised during some of the PPI sessions. The 2013-2014 PPI Class will accept applications in the summer.