The January General Membership Meetings (GMMs) give JLC members an opportunity to hear from small businesses and learn important League news.  On January 9 Katherine LeSage; a JLC sustainer, graciously hosted a GMM in south Charlotte.
Angela Sholl from the Cornerstone Committee joined 14 League members in attendance to share information about the Cornerstone Project in Reid Park.  This is a one million dollar, five year wrap-around project to offer support for children K – 8th grade.  The Junior League of Charlotte is proud to be a part of this holistic effort to provide services in partnership with others for the Reid Park community.
After updates, Katherine introduced us to her business -Sevier Skirts.  She is a sales representative for Sevier Skirts; in addition to being wife and mother.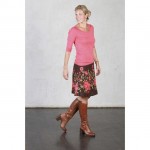 Sevier Skirts are custom skirts of various sizes, styles and lengths.   Sold thorough home shows, attendees get a chance to see and feel the fabric, get measured for a custom fit and have an enjoyable time with other women. The skirts, made of high quality fabric, can be dressed up or down.  They are suitable to wear to work, with flats or flip flops and a jean jacket.
Brooks Whitted, who just finished her provisional year, chose to attend the event because it looked fun and was located near her home.
Lauren Jetton also attended because of the convenience in location and because she loves fashion.
If you are interested in hosting a Skirt party or attending one of the 40 parties planned for the year you can find Katherine's contact information in the JLC Directory.
-Arissa
Whether or not you are able to attend, view the January meeting announcements here to stay up to date with JLC news.